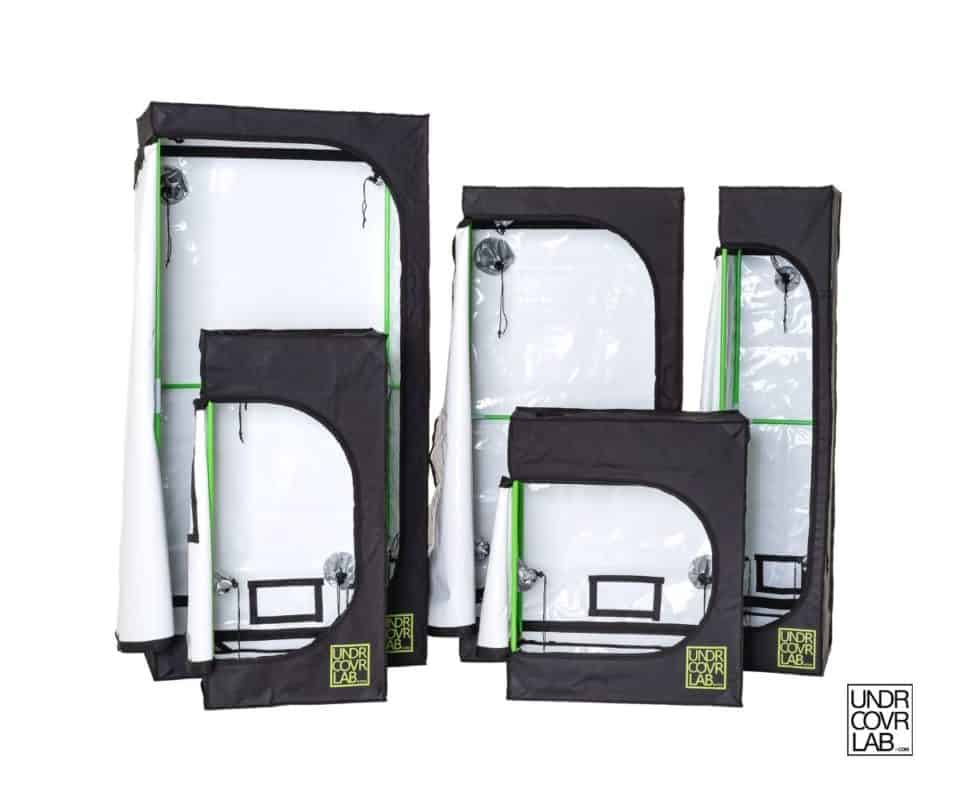 Grow stealth – grow under cover!
UndrCovrLab Grow Tents Turn Closets Into Stealth Grow boxes
Shop our Grow tents
Free delivery above 100€ to many EU countries available

NEUTRAL & FAST
SHIPPING
We only deliver in neutral packing.
Discreet sender without company name.
If payment is received by 12 noon, we will ship tents the same day.
100 DAYS*
MONEY-BACK-Garantee
Our quality promise!
You can return your goods within 100 days and get your money back.
Including 24 months warranty.
UndrCovrLab stands for Stealth-Grow optimized grow tents in top quality.
🌱 WARDBOARD FORMAT
Rectangular footprint instead of square box format. Equally usable as a stand-alone grow tent or hidden in a cabinet.
🌱 EXTERNAL DIMENSIONS
Easy installation due to perfect fit for popular closets. Five sizes are currently available.
🌱 QUALITY
PVC free 600D nylon tarpaulin. Light-proof, smooth-running zipper with additional internal slat and more.
🌱 Climate and odor control
Ideal positioning of the air inlets & outlets make our grow tents flexible space-saving use. All air can be managed from the backside as well as from the roof and sides.

🌱 TENT FRAMES
Powder coated ø16mm poles with intermediate braces for extra support of the outer canvas. Optional support of a cabinet board for growing on two levels. Easy mounting of fans, sensors, etc.

🌱 INTERIOR COATING
Glossy-White for highest PAR reflection while avoiding heat generation through better light diffusion and absorption of lamp heat.

100% LIGHTPROOF ZIPPER
With the internal lamella has managed to close the entire zipper light-tight. The lamella is processed not only on the door, but on the entire tent.
Further, the zipper is fine-toothed and thus inconspicuously quiet.
CROSS BRACES AT HALF HEIGHT
UndrCovrLab M with 189cm height, UCL S and SP with 165cm height, have three additional frame poles installed at half height. This makes the tents more stable and the outer canvas is held back in case of high negative pressure. Of course, fans, sensors, etc. can finally be attached reasonably.
For the hackers among you. If you have a cabinet board left over, you can use a saw to shorten the back corners about 10 cm. The Swedish cabinet board should then rest securely and the footprint of your growbox doubles.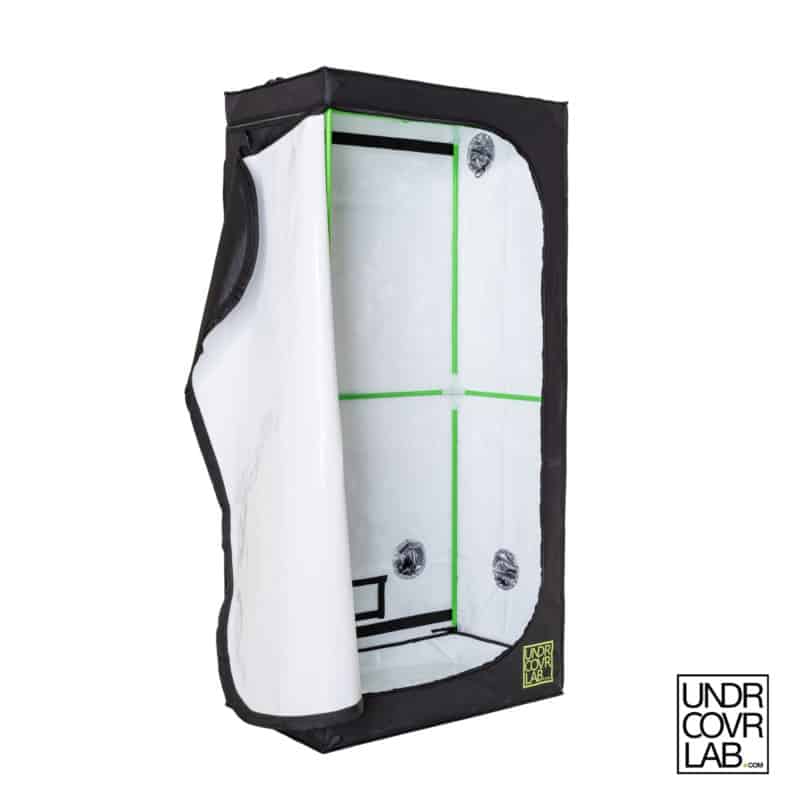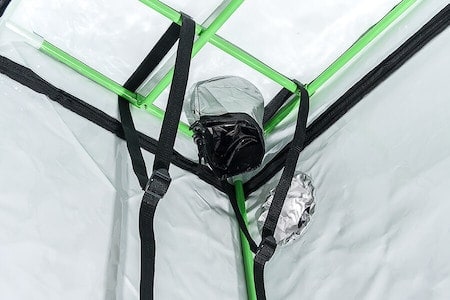 SUSPENSION FOR LUMINAIRES AND EXHAUST SYSTEMS
Due to the optimally placed exhaust air ducts in the roof, on the rear side and in the UndrCovrLab M tent additionally on the side, exhaust air sets can be fastened in a space-saving manner with very short due to. Depending on the size of the tent, the exhaust air ducts are dimensioned with ø100 or ø125mm.
Lights and lamps can be attached to the equipment poles or directly to the outer roof poles. If you have doubled your mounting space by adding a cabinet board, you can use the crossbars to hang the lamps.
INFINITELY ADJUSTABLE VENTILATION GRILLE ON THE REAR SIDE
Auf der Rückseite jedes Zeltes befindet sich mittig ein Zuluftfenster mit Fliegengitter, welches mit Klettverschluss, stufenlos geöffnet oder licht- und geruchsdicht verschließbar ist. Die Tube auf der Rückseite kann wahlweise als Zuluft- oder zur Verkabelung genutzt werden.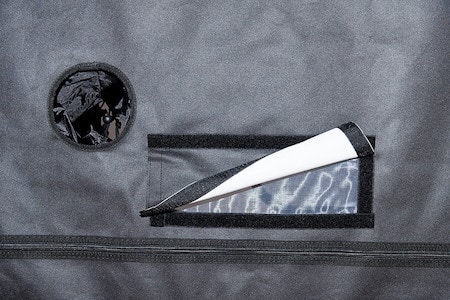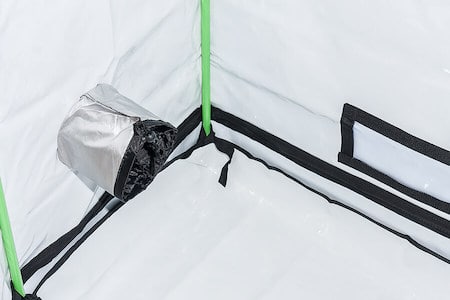 GLOSSY-WHITE INNER COATING AND DOUBLE BOTTOM
The choice of a white glossy interior coating makes the UndrCovrLab grow tents stand out from the competition in terms of price. But always remember, you're "grow'ing" in a closet with little space and therefore short distances for light. Our glossy white, thick tarp, absorbs far more heat than silver coated tents. Hotspots are avoided and during the summer months your plants have less stress.
The floor also comes in waterproof, high quality, white coated 600D oxford fabric, as does the outer tarp.
SUPPLY, EXHAUST AND CABLE DUCTS
The positioning of the inlets and outlets, in our experience, is optimal to operate a project as "stealth" as possible. The lower air inlets are positioned centrally on both sides and on the right rear. Thus, the tubes can be equipped with "super silent" PC fans (Ø120mm) and provide enough fresh air without any noise.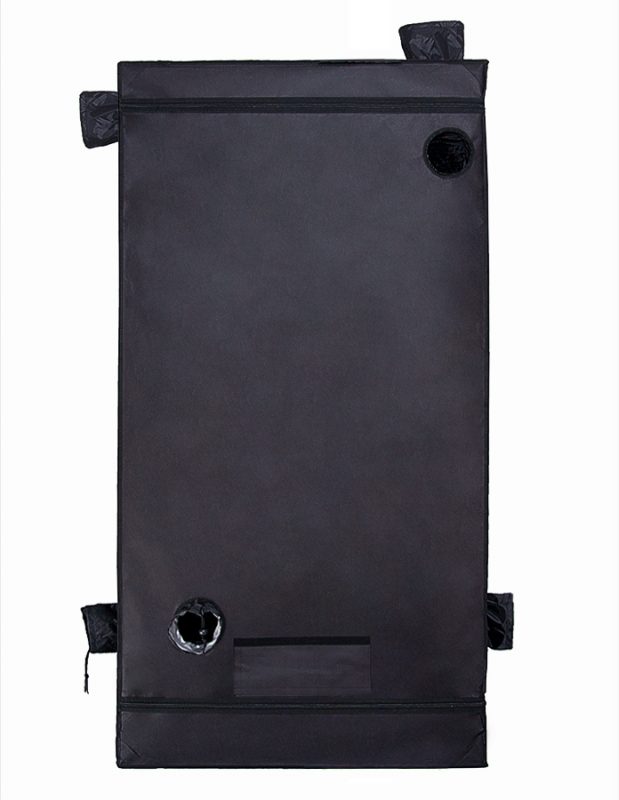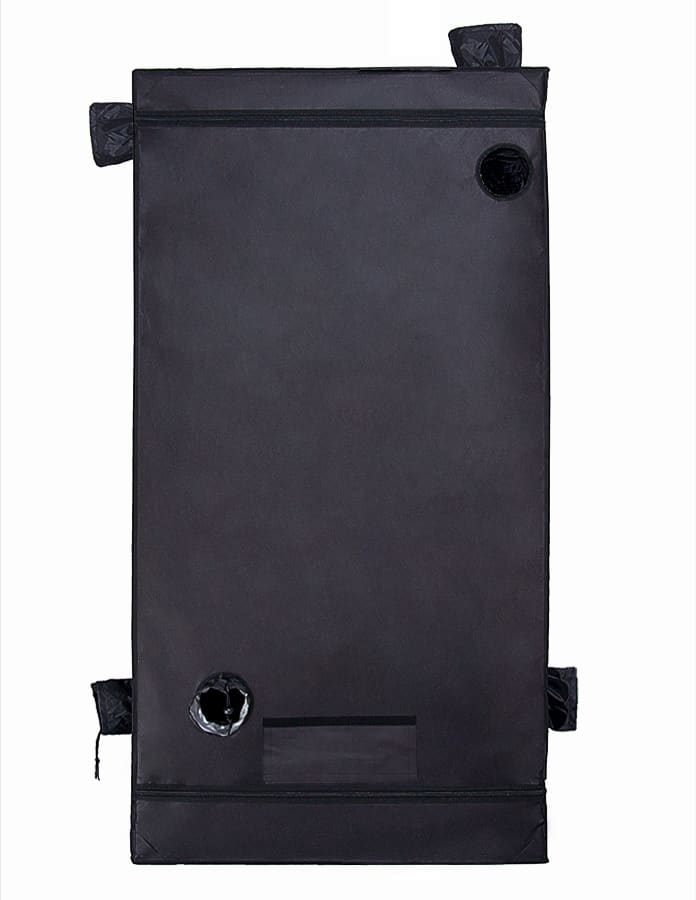 THE IDEA OF THE UNDRCOVRLAB STEALTH GROW TENT
UndrCovrLab grow tents were born from the ingenious idea of wanting to run a hidden and noiseless and odorless tomato farm in an Ikea closet.
Instead of going to the hardware store to buy everything necessary to make the closet "light and air tight", the idea of UndrCovrLab was born.
"Why not hide a matching grow tent in this inexpensive Swedish cabinet?"
After about hours of searching for possible options, no satisfactory solution was to be found. So I went looking for a growbox manufacturer myself, who could implement a stealth grower's wishes down to the last detail.
The design of our tents is not only based on the external dimensions or the internal dimensions of the cabinet. But just the design, positioning of the supply and exhaust air, suspension, door and zipper has always been sophisticated for the "Closet Stealth Grow Project" and with subsequent "UndrCovrLab experience" always further developed and optimized.
Disturbing features of previous grow boxes were improved, superfluous omitted, so also vowels in the brand name and always demanded the highest quality from the manufacturers.
In the end, there was only one producer who could deliver the design requirements, exact sizes and premium quality.
In the meantime we are already at 'version 4' of the UndrCovrLab Stealth grow tents. Not only do the cabinets from the furniture manufacturers change, but user feedback is also taken into consideration as a design suggestion for each next version.
Among many other benefits, we have placed special emphasis on the following features and continue to optimize them.
Therefore we are very happy about feedback to our grow tents. Even better are positive product reviews from happy customers, which help others to find the best grow tent 😉
Have fun and success with our products.
Wishes, Flo from UndrCovrLb.com
Grow stealth, grow under cover!